New Horizon Baptist Church started out as the Antioch North Baptist Mission, which was the seventh mission church established by Antioch Baptist Church North. On Sunday, March 25, 2001 at 11:00 am, the first worship service of the Antioch North Baptist Mission convened at the Collier Heights Park Recreation Center. A small number of eager souls gathered in worship and praise of our Lord Jesus Christ and the work of "kingdom building" commenced.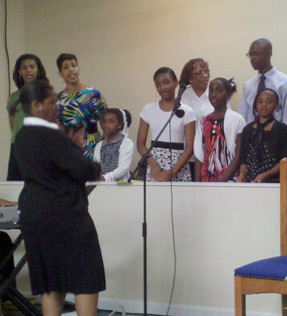 The Presiding Minister Rev. Sean Smith has led the mission in its growth both in number and effectiveness. Guided by Acts 1:8,"…ye shall be witnesses unto me both in Jerusalem, and in all Judea, and in Samaria, and unto the uttermost part of the earth," thirty men, women and children joined forces to establish several auxiliaries aimed at training and outreach. These faithful stewards set a course to live out its mission statement: "to make disciples of the un-churched, to restore the backslider, to bring encouragement and support to the "least of these" by availing spiritual support and material resources to local families and the surrounding community."
We have 5 clusters that guide our administrative and spiritual planning and organization – they are Liturgy, Education, Administration, Outreach, & Membership. We also have collaborated with several community organizations such as Carrie Steele Pitts Home, The Bridge, Cuffie's Home for Boys and the Collier Park Recreation Center to provide additional support to the youth in the community. Previously, the outreach of the Mission has expanded beyond the borders of the United States to include support of an orphanage in the Dominican Republic and relief supplies to Haiti.
The Mission moved from the Collier Park Recreation Center to 46 Westland Blvd in March 2007. Rev. Alexander and the Antioch Baptist Church North dedicated the new facility, which was preceded by a full Entrance Revival. Local Pastors and churches came and celebrated the goodness of God in blessing the Mission with a home. As a part of the enduring legacy of our mother church and the Mission's eternal connection to her, stained glass windows from Antioch Baptist Church North were installed in the new facility. The Mission officially became New Horizon Baptist Church on September 12, 2010.